The 2015 report The Sexual Abuse to Prison Pipeline: The Girls' Story exposes the ways in which we criminalize girls — especially girls of color — who have been sexually and physically abused, and it offers policy recommendations to dismantle the abuse to prison pipeline. It was authored by Malika Saada Saar and Yasmin Vafa of the Human Rights Project for Girls, Rebecca Epstein of Georgetown Law Center on Poverty and Inequality, and Lindsay Rosenthal of the Ms. Foundation for Women and the Vera Institute of Justice.
When the most common crimes for which girls are arrested (running away, substance abuse, and truancy) are also the most common symptoms of abuse, it does not come as a surprise that various reports consistently cite over 80% of girls in the juvenile justice and child welfare systems have experienced sexual abuse. In fact, sexual abuse is one of the primary predictors of girls' entry into the juvenile justice system. Further, studies show it has a greater impact on girls' re-entry into the system than other risk factors like behavioral problems and prior justice involvement. To make matters worse, once inside, the system is lacking in trauma-informed care. This leads to significant risk of the girls being re-triggered and, in some cases, can leave them vulnerable to new incidents of sexual abuse.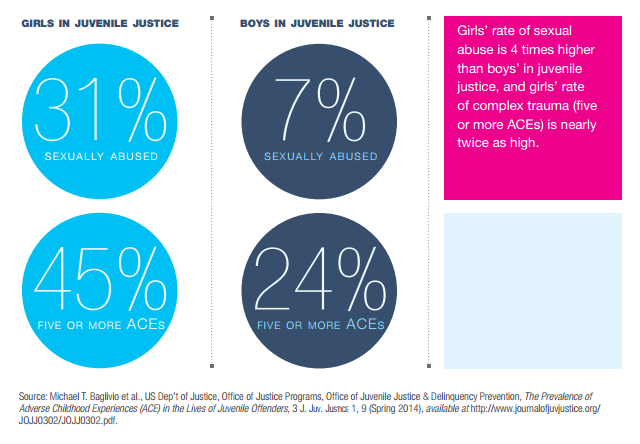 The report brings to light to striking inadequacies and injustices girls face in the juvenile justice and child welfare systems while presenting policy changes that could be implemented across various stages of these systems. The policy suggestions offered would help:
Reduce traumatized girls' arrests and incarceration
Keep victims of sex trafficking out of juvenile justice
Decrease the disproportionate effect of status offense enforcement on girls
Reduce foster girls' crossing over into the juvenile justice system, and
Improve the child welfare system's response to girls.
The report concludes, "There is much work to do. We still do not know enough about this pipeline for girls. Research typically excludes girls from study samples, data is often not disaggregated by gender, race, and ethnicity, and public agencies do not collect information about trauma and gender-specific issues. The real and distinct lives of girls, especially when they lives play out at the intersection of race and gender, remain invisible." Although the report is an in-depth study the abuse to prison pipeline that offers realistic and promising policy solutions, authors of the report emphasize the need for further study across various agencies in order to remedy the issues girls who have been exposed to abuse face.
About the Authors
Malika Saada Saar is a Washington-based advocate for women and girls' rights. She is the Executive Director of the Human Rights Project for Girls, a new effort focused on the human rights of vulnerable girls in the U.S. She is also the co-founder and former director of The Rebecca Project for Human Rights.
Saada Saar grew up in Pennsylvania, raised by her mother and grandmother. As a teenager, she worked with the iconic Washington-based activist for the homeless, Mitch Snyder, living in a shelter for a period to immerse herself in the issue. She went on earned a B.A. from Brown University, an M.A. in Education at Stanford University, and a J.D. from Georgetown University. While at Georgetown, Saada Saar started Crossing the River, a written and spoken word workshop for mothers in recovery from substance abuse and violence. The group evolved into the Rebecca Project for Human Rights, a policy and advocacy group for vulnerable women and families.
 
At the Rebecca Project, Saada Saar led the effort to shut down Craigslist sex ads that served as the leading site for the trafficking of children for sex, ended the federal practice of shackling pregnant mothers behind bars in U.S. prisons, and successfully advocated for millions in federal funding for treatment and services for at-risk families. Saada Saar left the organization in 2012 to head the Human Rights Project for Girls.
 
She has been selected by President Obama to serve on the Presidential Advisory Council on HIV/AIDS. She also serves on the Board of Directors for the Robert F. Kennedy Center for Human Rights.
Yasmin Vafa is co-founder and Executive Director of Rights4Girls. Yasmin's work and advocacy focus on the intersections between race, gender, violence, and the law. She educates the public and policymakers on these issues and how they affect the lives of marginalized women and girls. Yasmin has successfully advocated for the passage of key anti-trafficking laws at the federal level, designed and implemented a national training institute for judges on child trafficking, and co-authored a seminal report mapping girls' unique pathways into the justice system: The Sexual Abuse to Prison Pipeline: The Girls' Story. In 2016, the U.S. Congressional Victims' Rights Caucus honored Yasmin with their Lois Haight Award of Excellence and Innovation for her legislative advocacy on behalf of trafficking victims.
Yasmin serves as a faculty judicial educator for the National Council of Juvenile and Family Court Judges, is an adviser to the Office of Juvenile Justice and Delinquency Prevention's National Girls Initiative, and was a member of the Department of Justice's National Task Force on the Use of Restraints with Pregnant Women and Girls under Correctional Custody. She is member of the District of Columbia and Florida State Bars.
Rebecca Epstein is the Executive Director of the Georgetown Center on Poverty and Inequality. Previously, Rebecca served as a senior trial attorney in the Civil Rights Division of the U.S. Department of Justice. Rebecca also worked as a staff attorney at Public Justice, a public interest law firm in Washington D.C., and was Policy Counsel at the National Partnership on Women and Families through a fellowship awarded by the Women's Law and Public Policy Fellowship Program. In 2008, she helped lead the women's issues committee of the Obama campaign, with a particular focus on work/family issues. Rebecca clerked for the Honorable Raymond A. Jackson in the Eastern District of Virginia. 
Rebecca received her J.D. from New York University School of Law, where she was awarded a fellowship from the Arthur Garfield Hays Civil Liberties Program, and was awarded Best Brief and Best Oralist at the school-wide moot court competition. She received her B.A. in history with honors from Brown University.
Lindsay Rosenthal works at the Vera Institute. She aims to prevent and end the incarceration of girls in America by reforming unnecessarily punitive law enforcement practices and creating pathways to long-term well-being, safety and justice for girls in their communities. At Vera, Rosenthal leads the Project for Gender Equity in Health and Justice, which implements public health solutions to violence and incarceration for girls and LGBT/GNC youth of color. Prior to joining Vera, she was a post-graduate policy and advocacy fellow at the Ms. Foundation for Women. There she co-authored a groundbreaking report, The Sexual Abuse to Prison Pipeline: The Girl's Story, which was published through the Georgetown Law Center on Poverty and Inequality in 2015. The report systematically exposes the widespread incarceration of girls of color in America as a direct result of their status as victims of violence. It creates a framework for understanding girls' delinquency as a problem rooted in gender and racial stereotypes and our societal failure to protect girls' safety, well-being and opportunity. The sexual abuse to prison pipeline framework has changed the narrative on girls' incarceration in the United States and become the impetus for national efforts to reform policies and practices that criminalize survivors of gender-based violence.