"A danger to society,
Is what they call me,
A danger to society,
Is what I am not,
I am a wonderful Black Woman
Who love herself and hold myself very high
Yes I have committed some crimes but that's
not who I am, I am someone better
Than my crime. I'm god's child Zanari
is my name god's blessing is what it
stands for and I will live by my name"
-Love Zahani
"To all the people out there getting
Judge by their rime
change that into something else
show them you are better than
what you came to jail for. show them
that you are one of a kind."
-Zahani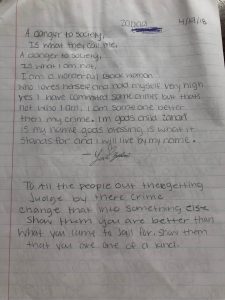 We'd like to give a special thanks to Spirit Awakening, the organization that connected us with Zehani and her story. Spirit Awakening is a non-profit arts organization dedicated to helping at-risk youth and children in the juvenile justice system realize their spiritual identity. They use meditation, creative writing, improvisation and visual arts to build character and raise self-esteem one child at a time. They have spent the past 23 years teaching the unheard the power of positive and productive expression.