"One thing that people label us as are criminals. They see us as that because us as teenagers that are in placement, in the streets, of course people don't see the good in us. But in reality, most of us have talents and are good at something. And I hate the fact that people look at us wrong cuz of some of the choices we've chosen without knowing our background story or what we've been through and just judge us.
-When they call me bad, but I'm actually good in the inside with a big heart. -When they call me stupid but I got a way of thinking and react in situations. When they call me disrespectful but really that's all I've known because that's what I grew up with in my pas and didn't know better.
Negative
Menace or "threat" to society
Destructive
Unwanted or worthless
Dumb or stupid
Postitive
A part of society
Frustrated and don't know how to relieve anger
Lost chip needing and wanting help
Intelligent and not properly taught
If you are a child lost in the system you are more than likely labeled. Most of the labels are negative because no one takes their time to properly meet you as a person. We're often mistreated and abused. But we are people too we want to be loved and care for. We have fights and although we sometimes bend and break the rules if people cared and treated us properly, maybe we won't live up to our negative labels."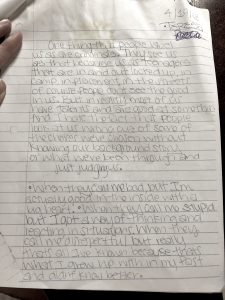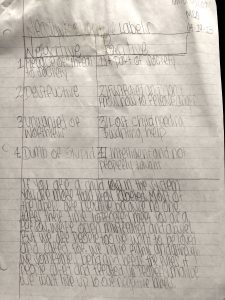 We'd like to give a special thanks to Spirit Awakening, the organization that connected us with Teresa and her story. Spirit Awakening is a non-profit arts organization dedicated to helping at-risk youth and children in the juvenile justice system realize their spiritual identity. They use meditation, creative writing, improvisation and visual arts to build character and raise self-esteem one child at a time. They have spent the past 23 years teaching the unheard the power of positive and productive expression.